Let the story begin...
The name of the castle, "Gravetsch" (Caruesses, Kervetsch) is derived from carra (stone, rock plate) or carrava (rocky bedrock ). Its imposing walls and the rustic entrance door make it a unique building. The chapel, the banqueting hall, the "Selch" and many other rooms have stories to tell.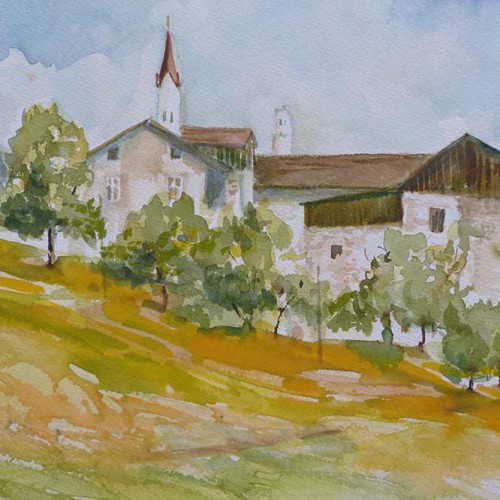 Gravetsch Castel lies i amidst lush meadows and is a listed monument dating back to 1150. Until 1900 various noble families and the lords of Villanders lived there. Upon returning from America in 1902, Georg Pupp bought the neglected farm that had been plundered by antiquity hunters. In 1956 Castle Gravetsch burned down and was rebuilt. Today's chapel, dedicated to Saint Ulrich, has a flat wooden ceiling and baroque rural furnishings. The old wooden door of the arched portal remains intact. Above he painted door is a picture of Christ with a crown of rays and two angels holding a ribbon with the date 1510. The walls feature paintings, including of Saint Stephen and Saint Laurentius, the two church patrons of Villanders. On the lower right there is a knight in gold-harnish, a flag in the left and a cross in the right hand, presumably depicting Saint George. A few times a year the small chapel comes alive for instance at May devotions or the Mass dedicated to the patron saint. If you climb up the stairs you will find a breathtaking knightly hall. The lower part holds an old "Kuchl" (kitchen) used originally by the peasant family.
The "Selch" - bacon prepared with a proven recipe
The "Selch" room is spectacular. In the winter, the typical South Tyrolean bacon hangs on the black bars for maturing. The smoke that rises from the old oven burning our own "Latschen" wood stains the walls and lends the bacon its unique scent and flavour.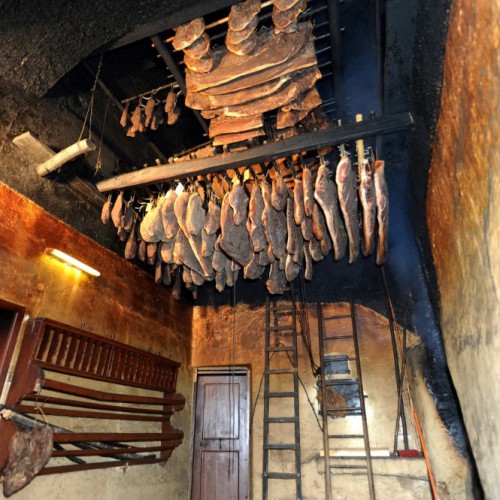 A door to the right leads to the old farmhouse living room that nowadays serves as a lounge for our guests. Old chests, photographs, texts and pictures tell the story of the farm and the life of the farmer's family. In addition to a Catholic church, there is a Lutheran chapel with a small underground cemetery. Schmitte, Dille, Gorn, Laabe and many other rooms and corners are hidden in Castle Gravetsch.
Family Pupp
We, farmer Martin and farmer Dorothea with Klemens, Jasmin and Patrick are farmers and hosts with passion.
Together with grandma Rosa we are anxious to offer you carefree days at our farm.
Spend the most beautiful time of the year with us at Schloss Gravetsch -
We look forward to seeing you!