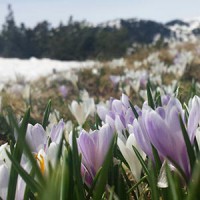 Nature comes back to life after a long winter. Experience this unique spectacle and be enchanted by birds chirping and warm sunbeams. Feel the fresh air and enjoy the scents and silence of fragrant meadows and a sea of flowers.
Take short walks to the menhir of Villanders or long walks to explore the beautiful surroundings of the miners' church in the middle of the forest of St. Anna. Take a stroll through our village of Villanders or the picturesque town of Klausen.
The springtime is perfect for cycling! Whether in the episcopal town of Brixen, in the Pusteria Valley, in the direction of Meran and Trauttmansdorf, or in the lowlands of Lake Caldaro,Villanders and the Eisack Valley are the ideal starting point for all destinations.